Adding a Duo Security Token to NetID
3.8 out Of 5 Stars
| | | |
| --- | --- | --- |
| 5 Stars | | 50% |
| 4 Stars | | 25% |
| 3 Stars | | 0% |
| 2 Stars | | 0% |
| 1 Stars | | 25% |
Overview
Contact SalukiTech!
The Office of Information Technology (OIT) recommends using your smartphone or tablet device, with the Duo Security App installed, for Multi-Factor Authentication (MFA) access to SIU systems and software.
If you do not have a device or do not want to use it for MFA, you can purchase a D-100 Security Token from OIT. Only tokens purchased from SIU will work with SIU systems and Applications.

As of August 1, 2020, a D100 Duo Security Tokens costs:
$25/token for devices purchased by a student or employee. To purchase a token please contact SalukiTech.
Please follow these instructions once you have received your D-100 security token from SIU. This process will connect your token to your SIU Account via NetID.siu.edu.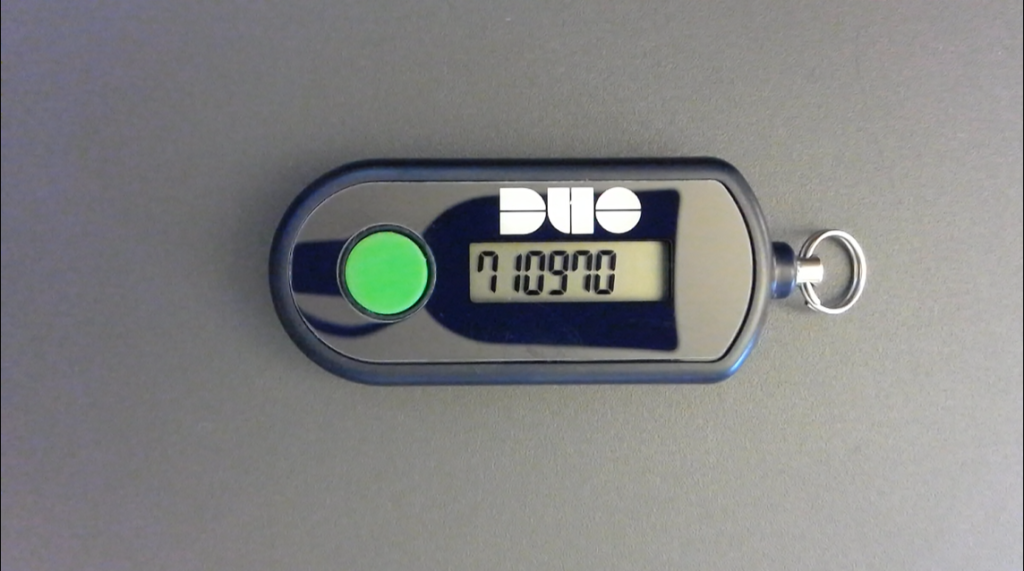 Token setup after purchase
Logging into NetID and Accessing Duo Security.
Open a web browser, such as Chrome, Firefox, or Microsoft Edge.
Navigate to https://netid.siu.edu
Log into you account using

Your SIU E-Mail address
Your SIU Password

Click on the My Profile tab.
Click on the Duo Security tab.
Detailed instructions for accessing NetID and the Duo Security tab can be found here.
Setting up your new security token
Click on the Add new device button. It is located below the "Duo Security Token" box.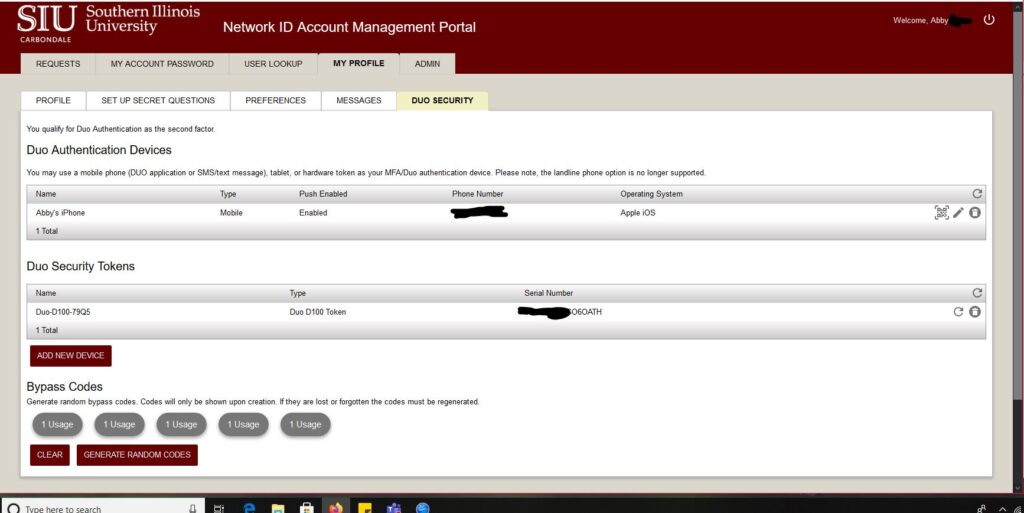 Then select the Hardware Token radio button.
Click Next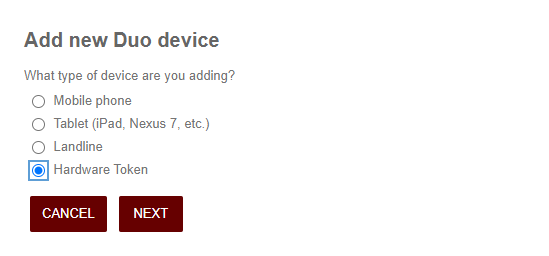 Select the Duo D100 Token radio button.

There are several types of devices that could work. The University selected the D-100 model due to the screen on the device. The screen enables users to use the MFA key, even when the device does not have a USB port – such as with a tablet or mobile device.
Click Next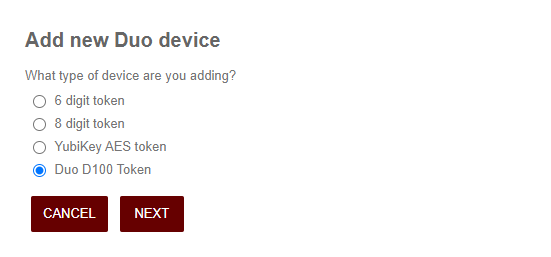 Enter the serial number of the key fob. It can be found on the back of the device. In this example, the serial number starts with "45."

Do not include the dashes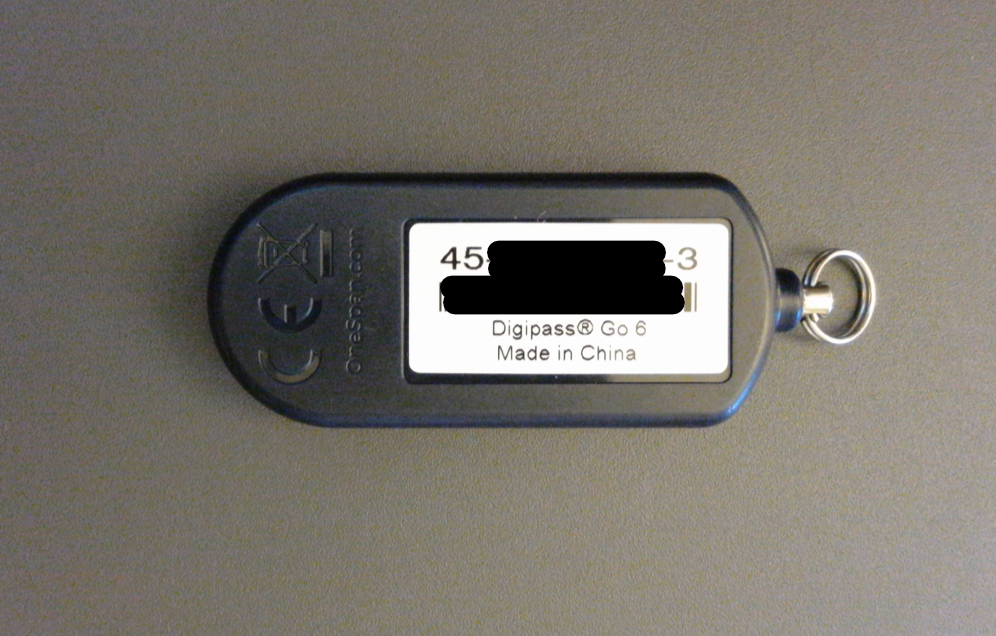 ** IMPORTANT ** Immediately after the digits listed on your D-100, add the following – GO6OATH

The letters referenced above are: (Golf, Oscar, 6, Oscar, Alpha, Tango, Hotel)

So, if your listed serial number was: 45-5687654-3
Then the value you enter in the Serial Number Box is:
4556876543GO6OATH

Click Associate
Click Done when the key has been added
Using the D-100 Token
When you need an MFA key, press the green button on your D-100 Token.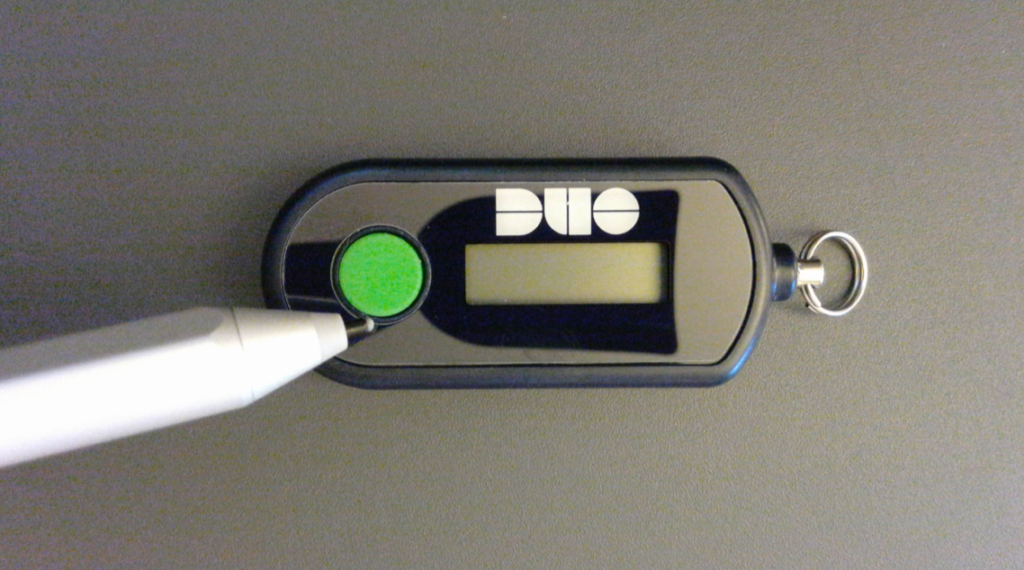 The number displayed on-screen is the one that you enter for your "code" or "second password"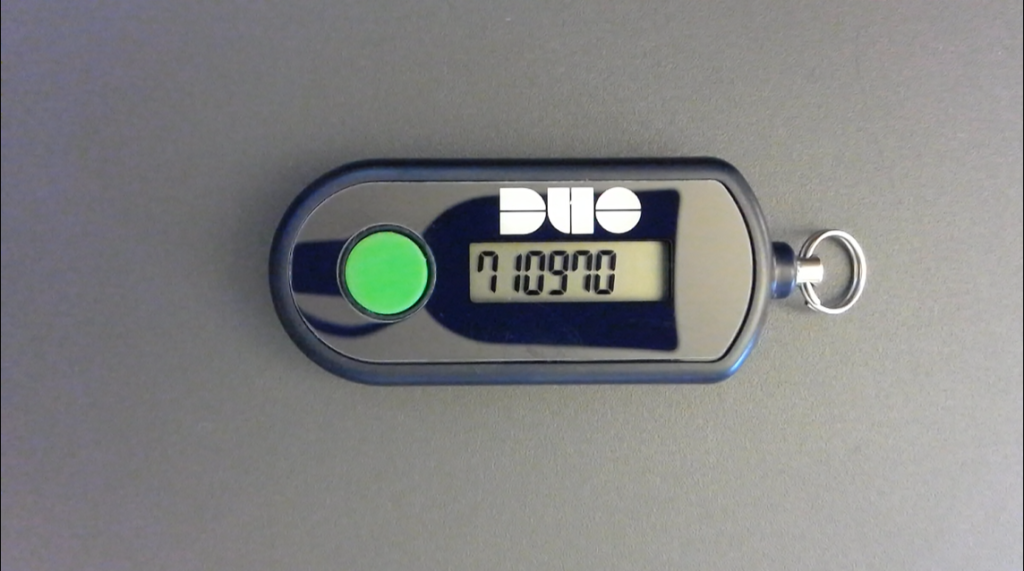 Was this article helpful?
3.8 out Of 5 Stars
| | | |
| --- | --- | --- |
| 5 Stars | | 50% |
| 4 Stars | | 25% |
| 3 Stars | | 0% |
| 2 Stars | | 0% |
| 1 Stars | | 25% |