ArcGIS Pro 3.0 for Windows: Manual Installation
0 out Of 5 Stars
| | | |
| --- | --- | --- |
| 5 Stars | | 0% |
| 4 Stars | | 0% |
| 3 Stars | | 0% |
| 2 Stars | | 0% |
| 1 Stars | | 0% |
Installing Microsoft Windows Desktop Runtime
1. Installer
Download the Microsoft Windows Desktop Runtime 6.0.5 (x64) installer.
2. Windows Desktop Runtime
Close all running applications, open the installer, and click Install.
3. Installation was successful
Upon successful installation, click Close.
Installing ArcGIS Pro
1. Installer ISO
Download the installer ISO, then open it with Windows Explorer.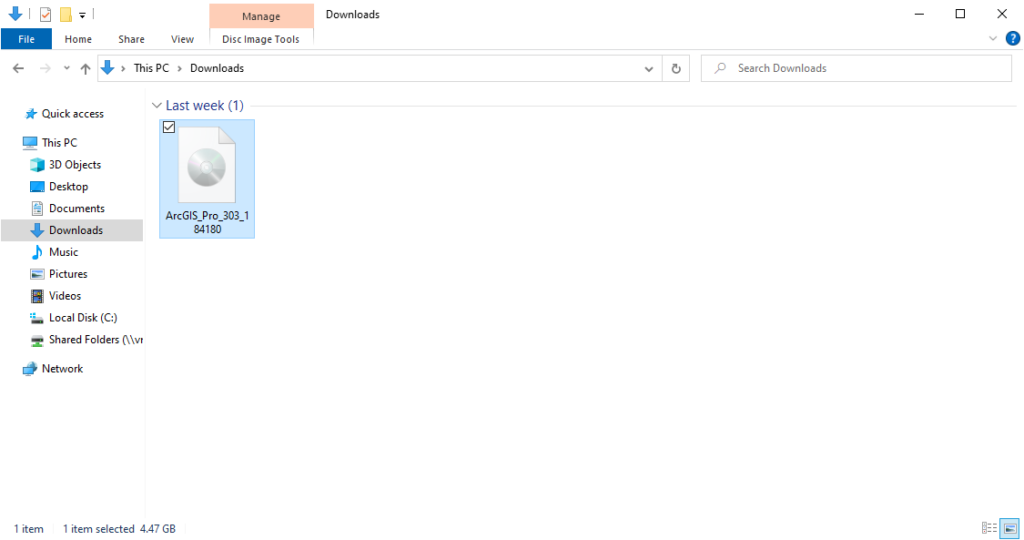 2. Installer
Close all running applications, then open the installer named ArcGISPro_303_184244.exe. Do not install the other components unless specifically required.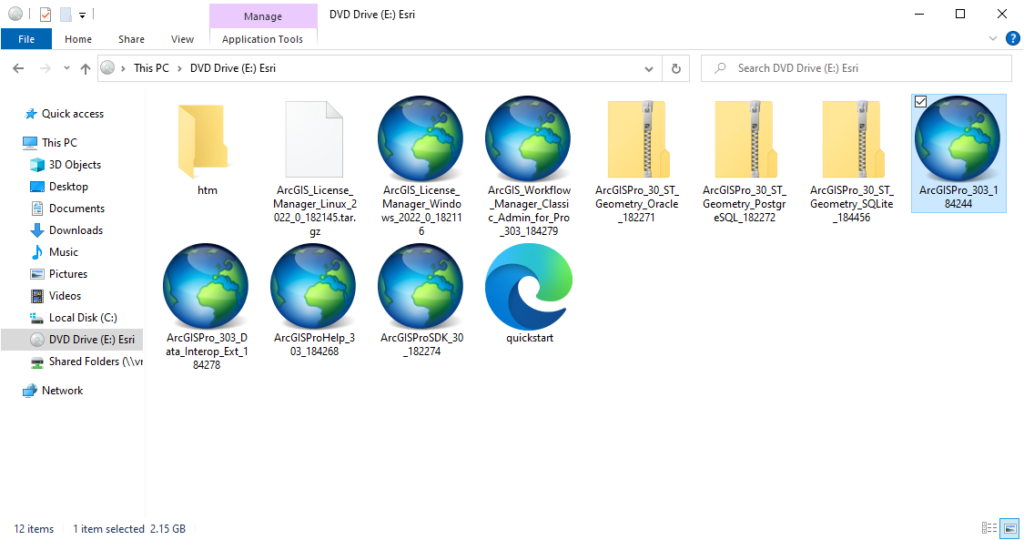 3. Destination Folder for Files
Click Next.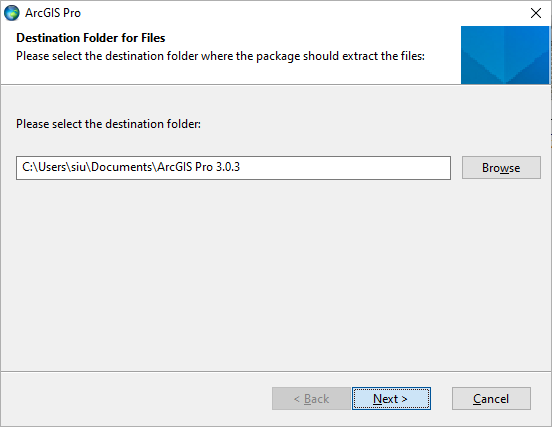 4. Installation files have been successfully extracted to your computer
Check Launch the setup program, then click Close.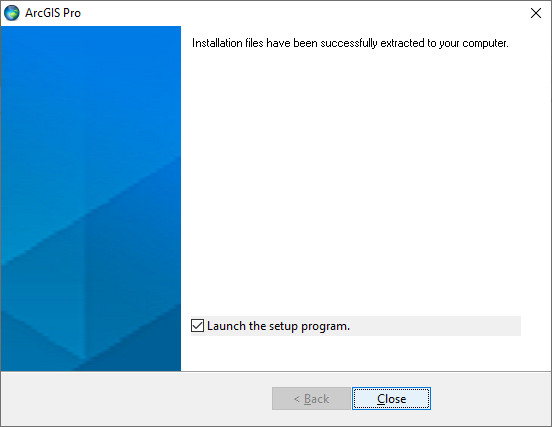 5. ArcGIS Pro Setup splash screen
Click Next.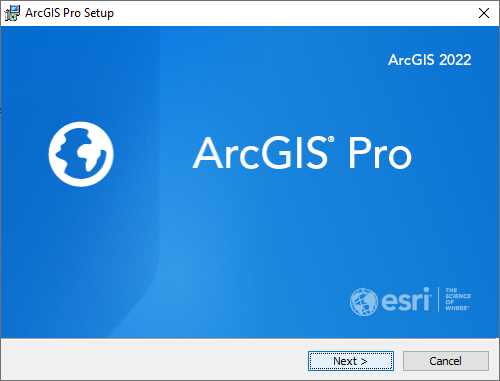 6. Welcome to the ArcGIS Pro Setup program
Click Next.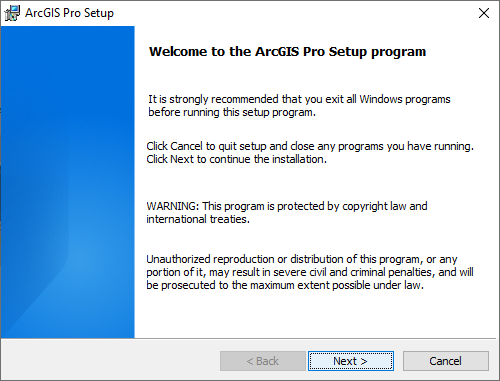 7. Master Agreement
Select I accept the master agreement, then click Next.
8. Installation Context
Select Anyone who uses this computer (all users), then click Next.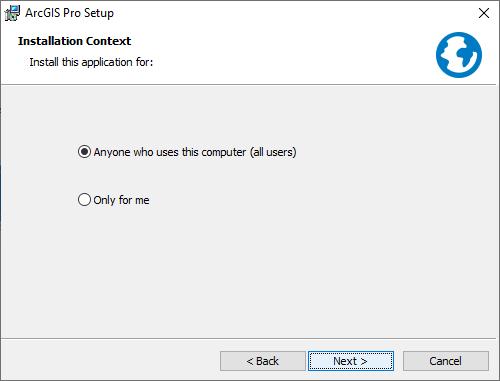 9. Select Features
Click Next.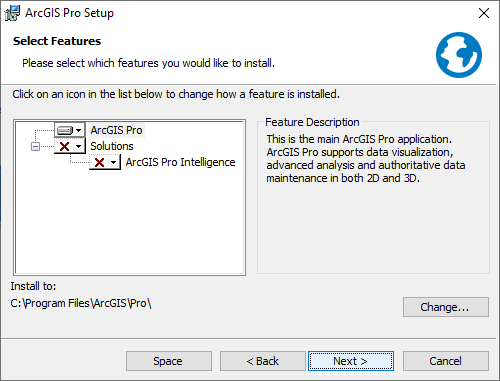 10. Ready to Install the Program
Click Install.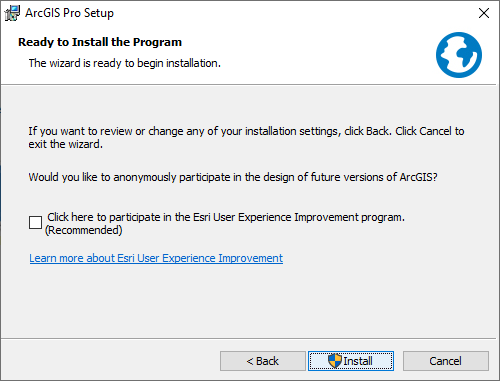 11. ArcGIS Pro has been successfully installed
Check Run ArcGIS Pro now, then click Finish.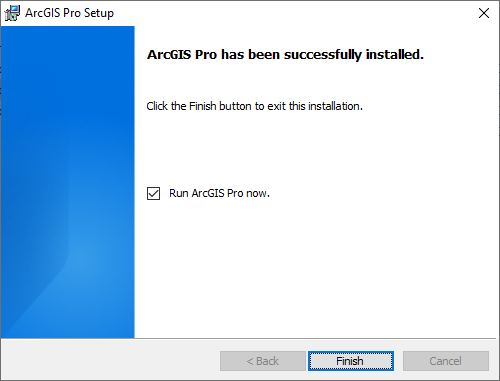 ArcGIS Sign In (Required)
1. ArcGIS Sign In – Configure Licensing
Open the ArcGIS Pro app for the first time, then configure licensing:
click Configure Licensing
select License Type – Named User License
enter ArcGIS Online Server URL – https://siucarbondale.maps.arcgis.com/
click OK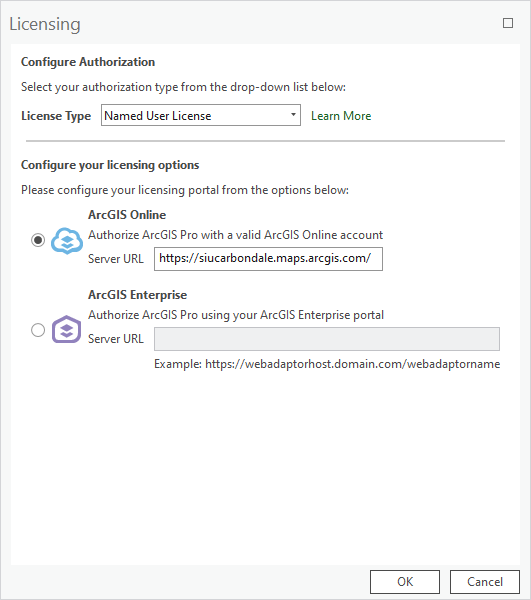 2. ArcGIS Sign In
Open the ArcGIS Pro app, click Southern Illinois University Carbondale, and sign in with your @siu.edu email account.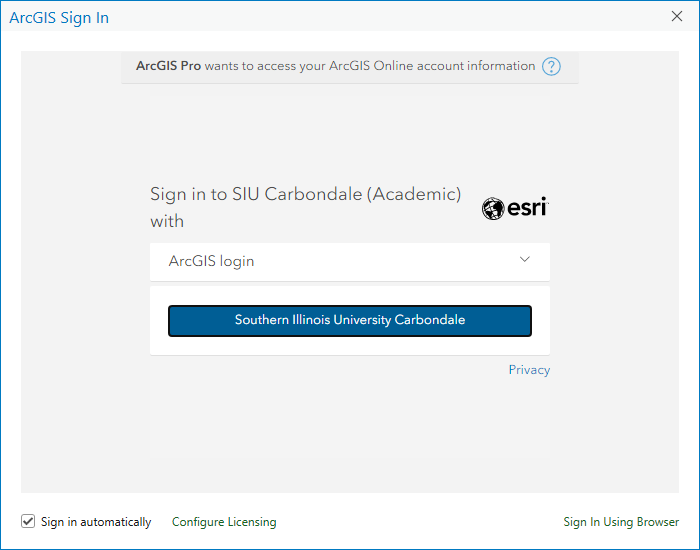 Troubleshooting
1. Corrupted Installer ISO: If the installer ISO is corrupted and does not open, then download again with a different web browser. To verify successful download, compare the cryptographic hash value.
ArcGIS Pro 3.0.3 for Windows (SHA-256):
cc42e10ae1a2fb6fa89b9bccdef2d3ff1980d32021bdf06e66ae9277e4f5b449
ArcGIS Pro 3.0 for Windows (SHA-256):
b12f612e67613fba298a7eff867b3120ef5750a3f0d794ca29de7d42447e3d6d
2. Third-Party Archive Utilities: Open the installer ISO with Windows Explorer. If necessary, temporarily disable or uninstall third-party archive utilities like 7-Zip, WinRAR, and WinZip.
3. Microsoft Window Desktop Runtime
ArcGIS Pro 3.0 requires Microsoft Windows Desktop Runtime 6.0.5 (x64) or later.
Was this article helpful?
0 out Of 5 Stars
| | | |
| --- | --- | --- |
| 5 Stars | | 0% |
| 4 Stars | | 0% |
| 3 Stars | | 0% |
| 2 Stars | | 0% |
| 1 Stars | | 0% |