Mathematica 13 for Windows: Manual Installation
4.5 out Of 5 Stars
1 rating
| | | |
| --- | --- | --- |
| 5 Stars | | 0% |
| 4 Stars | | 100% |
| 3 Stars | | 0% |
| 2 Stars | | 0% |
| 1 Stars | | 0% |
Installing Mathematica
1. Installer ISO
Download the installer ISO, then open it with Windows Explorer.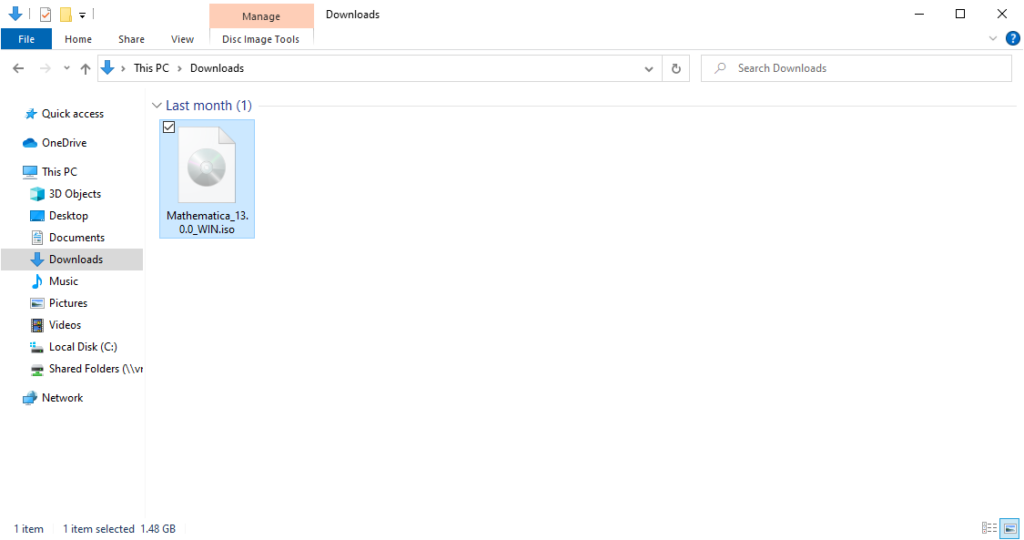 2. Installer
Close all running applications, navigate to the Windows folder on the mounted Mathematica installer drive, and open the setup.exe installer.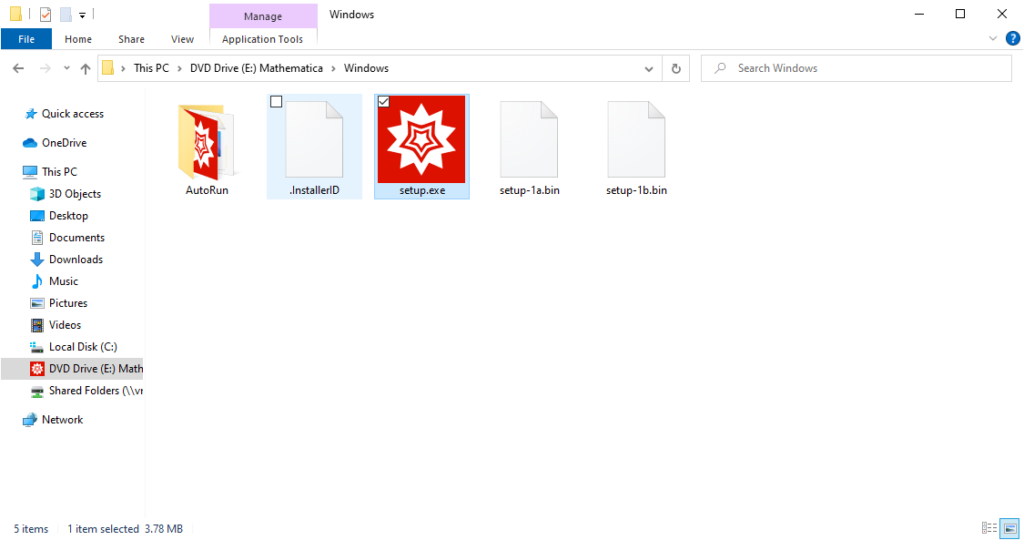 3. Wolfram Mathematica Setup
Click Next.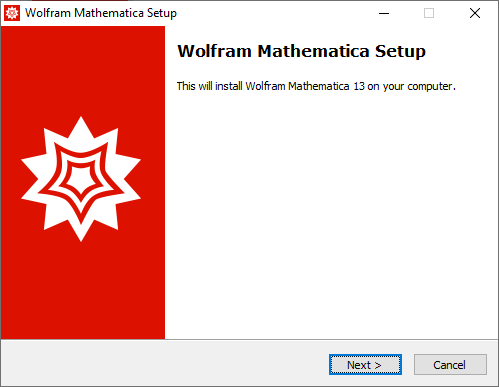 4. Destination Location
Click Next.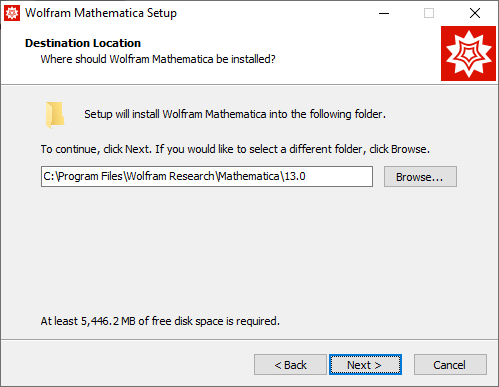 5. Select Components
Select Install all components (recommended), then click Next.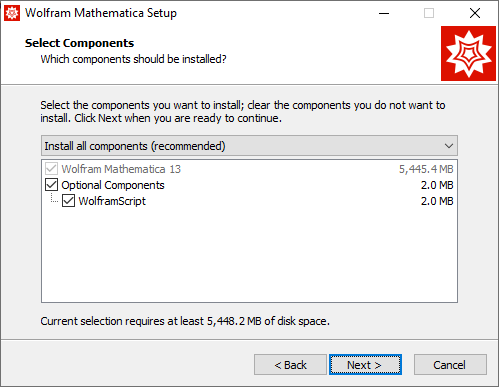 6. Start Menu Folder
Click Next.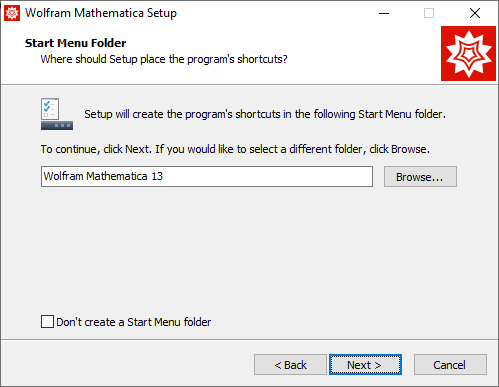 7. Ready to Install
Click Install.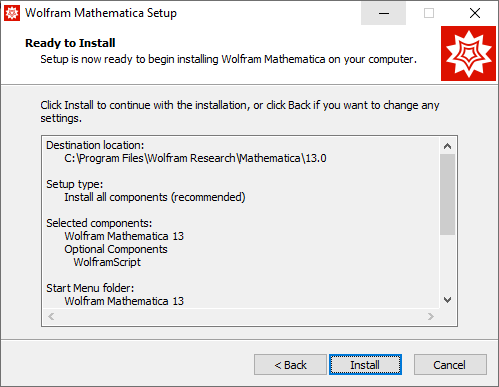 8. Completing the Wolfram Mathematica installation
Check Launch Wolfram Mathematica, then click Finish.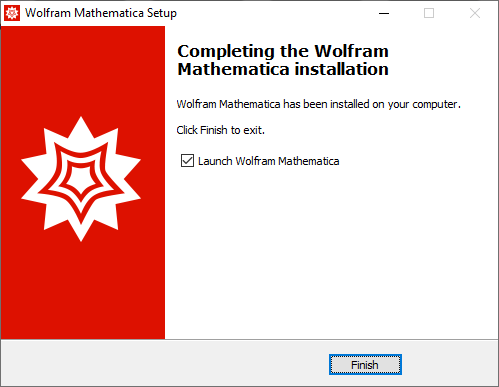 Licensing Mathematica
1. Activate Online
Enter the activation key, then click Activate.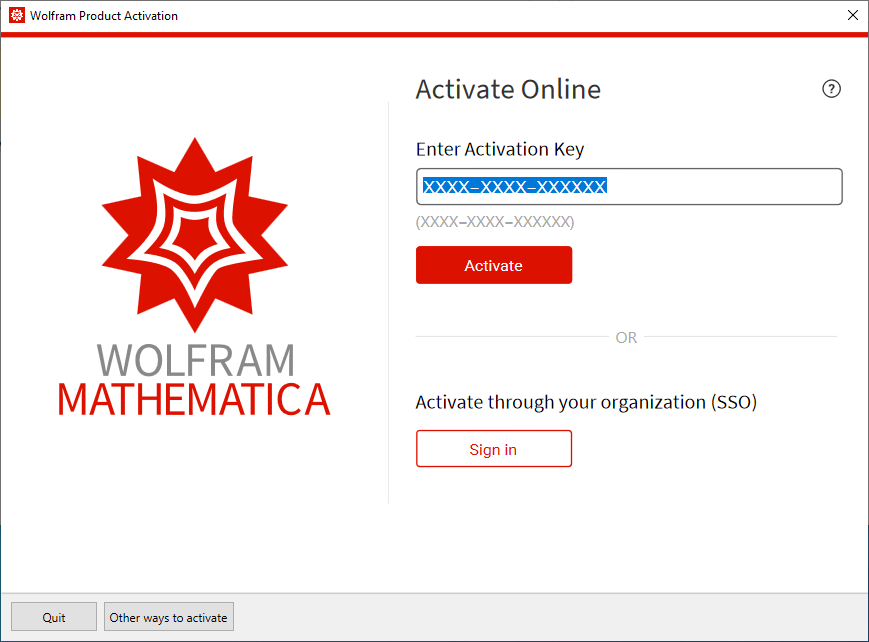 2. Read the License Agreement
Check I accept the terms of this agreement, then click OK.
Troubleshooting
1. Corrupted Installer ISO: If the installer ISO is corrupted and does not open, then download again with a different web browser. To verify successful download, compare the cryptographic hash value.
Mathematica 13.2.0 for Windows (SHA-256):
fef9c1dc2d0854946ce61b6dd80a86d195fe8da297fd4d99ff69733c43eb8e75
Mathematica 13.1.0 for Windows (SHA-256):
2a59981c33db2d97a62549efda7f652e2e7d93d2aa40924a4a680b922f0f1fcb
Mathematica 13.0.1 for Windows (SHA-256):
fbd9ae076df457e7e01cdd2d1227bd6ebb1b7e4a4f49c5ae578320975a0b7b8e
2. Third-Party Archive Utilities: Open the installer ISO with Windows Explorer. If necessary, temporarily disable or uninstall third-party archive utilities like 7-Zip, WinRAR, and WinZip.
Was this article helpful?
4.5 out Of 5 Stars
1 rating
| | | |
| --- | --- | --- |
| 5 Stars | | 0% |
| 4 Stars | | 100% |
| 3 Stars | | 0% |
| 2 Stars | | 0% |
| 1 Stars | | 0% |