MOVEit User Guide
0 out Of 5 Stars
| | | |
| --- | --- | --- |
| 5 Stars | | 0% |
| 4 Stars | | 0% |
| 3 Stars | | 0% |
| 2 Stars | | 0% |
| 1 Stars | | 0% |
Overview
MOVEit is a service available to Southern Illinois University students, faculty, and staff that securely allows exchange of electronic data between individuals using an encrypted connection. Using MOVEit minimizes the likelihood that information could potentially be compromised. In addition, students, faculty, and staff can send non SIU individuals data securely via MOVEit. When sending the data, a temporary account will be made on behalf of the individual.
The URL to access MOVEit is https://moveit.siu.edu. The built-in web interface provides access to anyone with a web browser to submit files securely. The MOVEit Wizard supports file integrity checking. Regardless of the method you choose to use, faculty/staff will be given 10GB of storage space while students will be allowed 5 GB of space to use with MOVEit.
Accessing MOVEit
Staff, Faculty, and Student Access
Anyone with an official Southern Illinois University Network ID can use MOVEit.
To access MOVEit, go to: https://moveit.siu.edu

If you are unable to sign into MOVEit with your Network ID, please click the link stating ">Try Single Sign-On with SAML"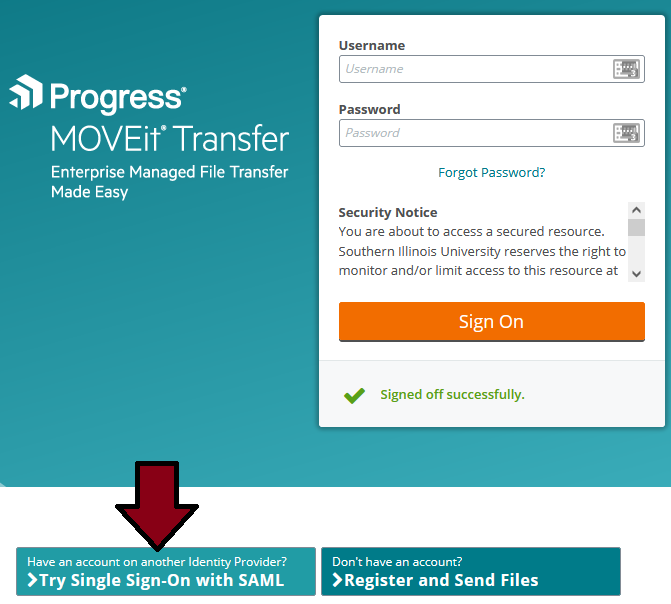 MOVEit Guide
To view a guide for how to use moveit visit this website.
Was this article helpful?
0 out Of 5 Stars
| | | |
| --- | --- | --- |
| 5 Stars | | 0% |
| 4 Stars | | 0% |
| 3 Stars | | 0% |
| 2 Stars | | 0% |
| 1 Stars | | 0% |