Change Course Offering Information in D2L
0 out Of 5 Stars
| | | |
| --- | --- | --- |
| 5 Stars | | 0% |
| 4 Stars | | 0% |
| 3 Stars | | 0% |
| 2 Stars | | 0% |
| 1 Stars | | 0% |
Overview
In this how-to guide, learn how to change course offering information; this is useful if you want to deactivate a course (so it does not show up in students' D2L list, activate a course early so that students can have early access to a course (e.g., before the term begins), extend the visibility of a course beyond the regular term).
NOTE: By default, all SIUC listed in the SIU Schedule of Courses (SIS/Banner) are active in D2L and become visible at midnight on the first day of the semester and are deactivated (not visible to students) at 11:59 p.m. on the Sunday of the final exam week of the semester.
How to
1. Go to Course Admin
The location of your Course Admin may vary depending on the D2L template in use. In most cases, Course Admin will be locate on the menu bar. (Check under "More")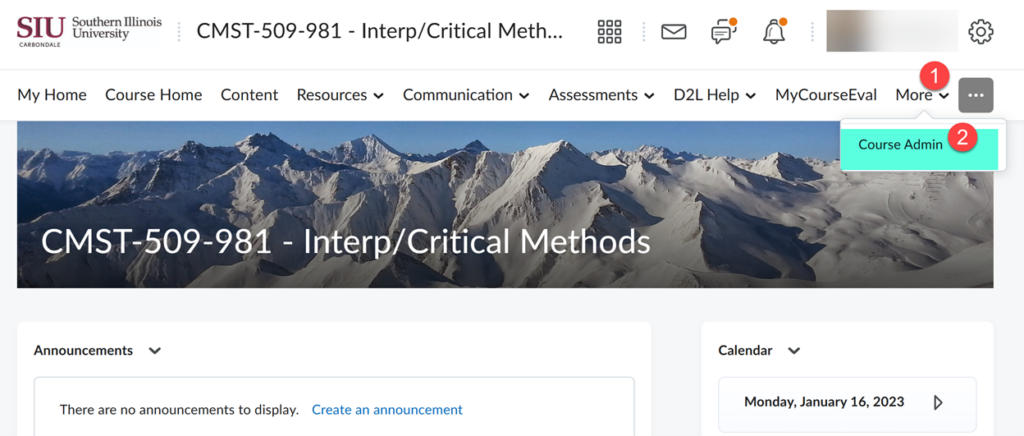 2. Click on "Course Offering Information"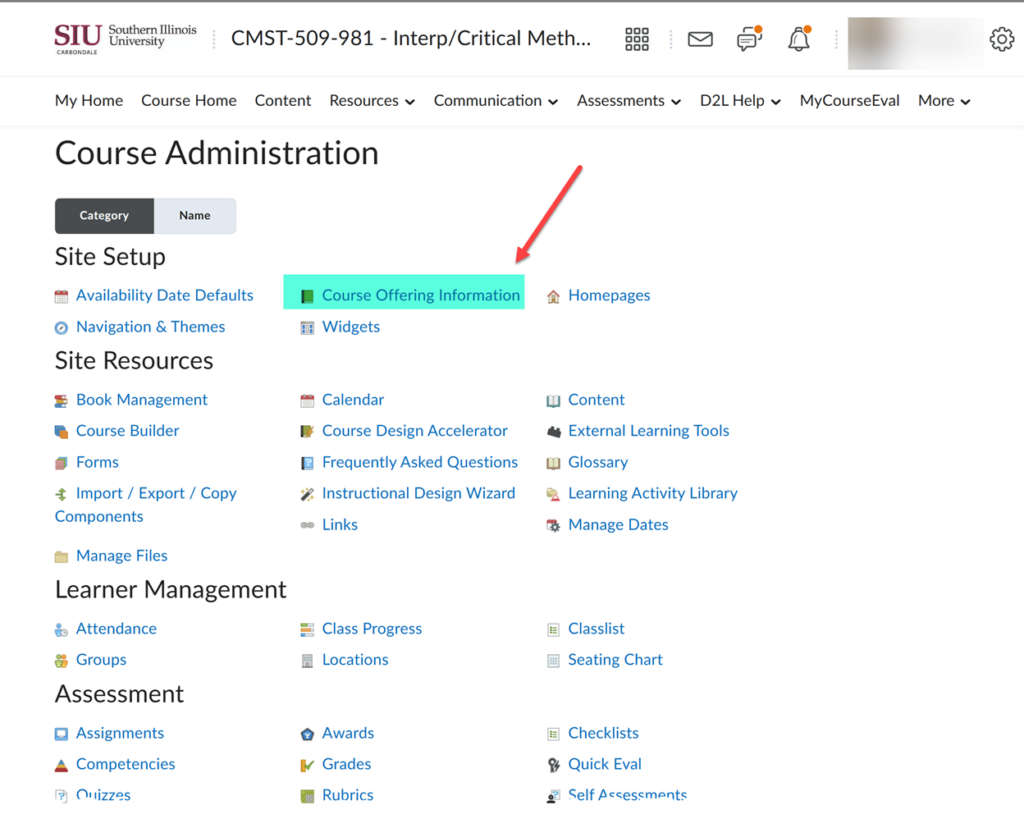 3. Dial Down Page, Find "Course is Active" and "Start Date"
On the Course Offering Information page, dial down the page to the check option, "course is active." By default, the course should be active. Deactivate (uncheck) to hide the shell from learners. Change the Start date to the preferred date of visibility or uncheck "course has start date" to make it immediately visible. Extend or shorten the course end date to the preferred time. By default, Sunday at 11:59 p.m. of Final Exams is the deactivation date. Consider extending through the deadline for final grades to be posted to the Registrar.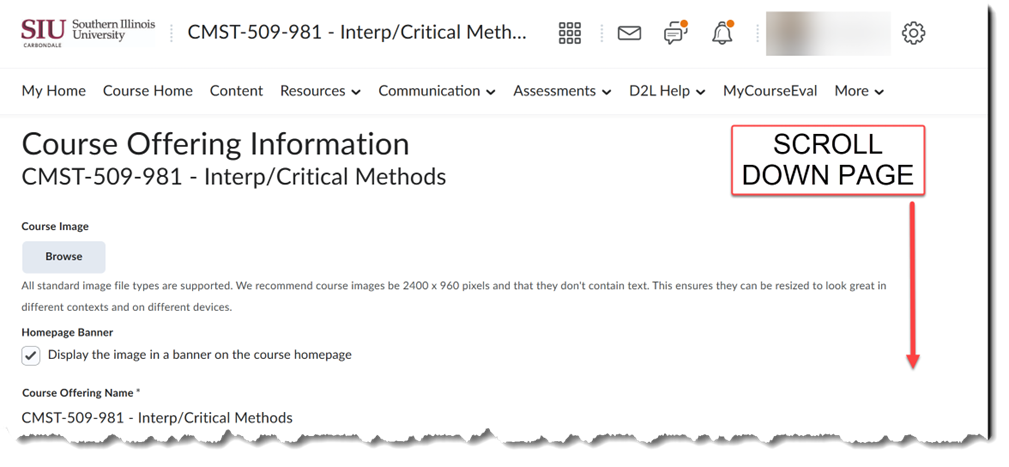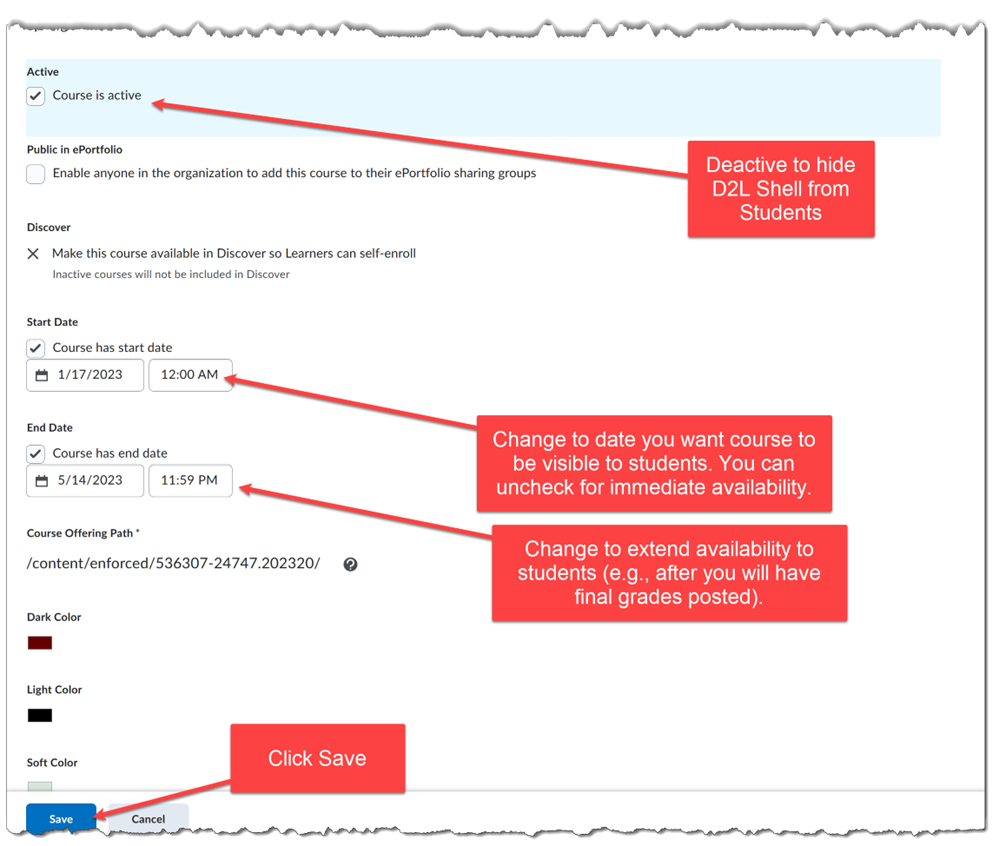 Was this article helpful?
0 out Of 5 Stars
| | | |
| --- | --- | --- |
| 5 Stars | | 0% |
| 4 Stars | | 0% |
| 3 Stars | | 0% |
| 2 Stars | | 0% |
| 1 Stars | | 0% |