Class Technology Troubleshooting
0 out Of 5 Stars
| | | |
| --- | --- | --- |
| 5 Stars | | 0% |
| 4 Stars | | 0% |
| 3 Stars | | 0% |
| 2 Stars | | 0% |
| 1 Stars | | 0% |
Need Help Right Away?
Chat below or call SalukiTech 618-453-5155 select option 3 for classroom technology issues. Prefer to file a ticket click this link to visit ithelp.
Overview
For information about what technology is available in specific classrooms, go here: https://cte.siu.edu/technology-enhanced-classrooms/index.php
Need to see how the larger lecture hall should work? Checkout this short video.
Note: Professors may sign out a key to open the classroom podium cabinets at the Center for Teaching Excellence office in Morris Library (located by the south entrance to Morris).
Projector Issues
Is the projector on?
Projectors can take a moment to start up. Some panels will have a power on button that will flash until the projector is on.
1.Check on the panel if you have turned it on. Click and drag desired input that you want to project.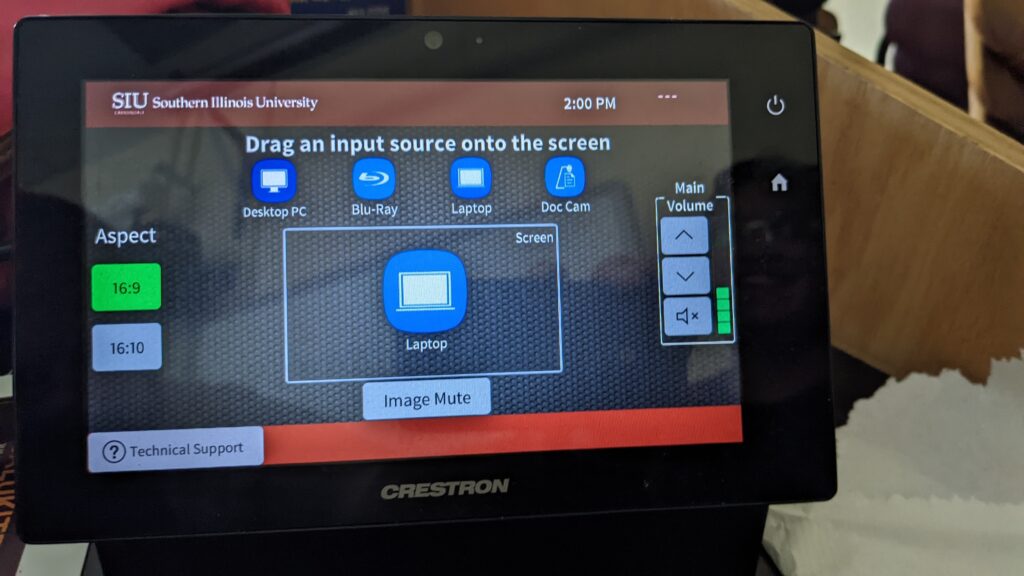 If the panel is on and input is selected but there is still no image check for a light coming out the lens of the projector and if there is no light, then turn off from the panel and turn on again.
2. Simultaneously, press the windows button and the letter p on the keyboard and check to see that you have duplicate selected.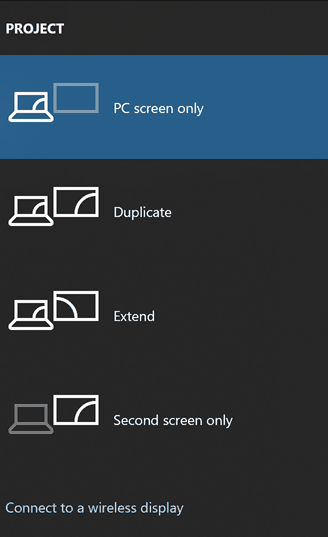 3. Some projectors are different from others, and they will have indicator lights on them. A red light signifies that a lamp may need to be changed.
Projector on but image does not show

Check the HDMI connection. The cord should be securely seated.
Projector Dim but functional with no color imbalance.
1.) Dim the lights if possible
2.) PPT slides or other content be prepared with dark fonts over light colored backgrounds (studies show that this is most effective)
Using a Mac and the image is not displaying?

Check the resolution setting and ensure that it's on 1920x1080p. Select Apple menu > System Preferences, click Displays , then click Display Settings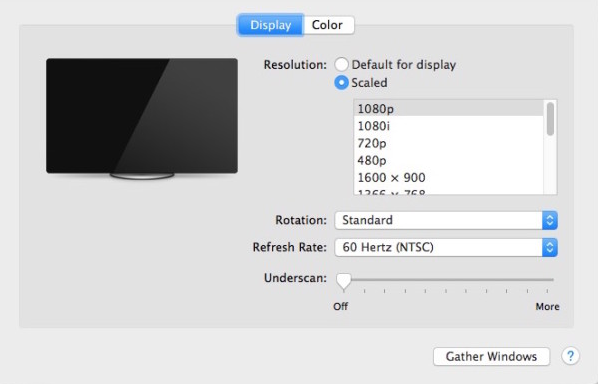 Using a Mac and Powerpoint slideshows are not showing.
If you are attempting to project a powerpoint slideshow on a mac computer, but the projector will not show the powerpoint presentation, there is a setting that can be changed to fix this.
With the powerpoint window selected, select the "slide show" tab, then click "set up slide show".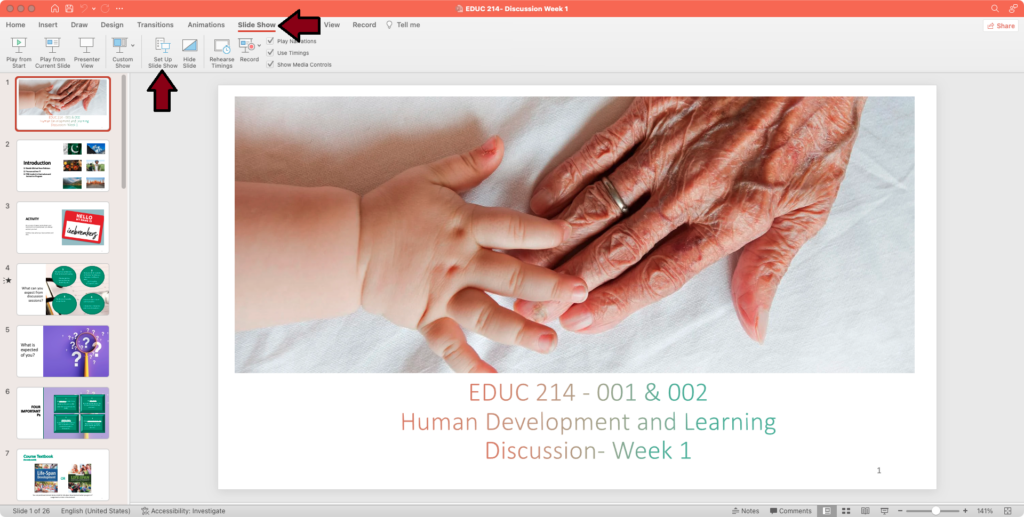 Once the "set up show" menu is opened, under "show type" select the option "Browsed at a kiosk (full screen)". Click OK once you've selected this option and start up your presentation again.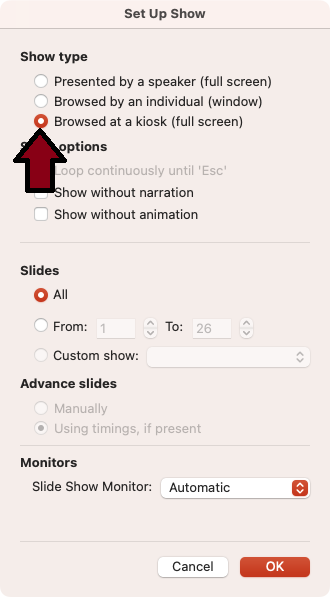 Audio Issues
No sound?

Click the audio symbol on the bottom right corner of the screen and check that it is connected to Crestron audio and that it is not muted. Also check that the website you are on is also not muted
No sound from mic?

Check for new batteries in the podium. If no batteries found, contact SalukiTech for replacements.
DVD Issues
The instructor should use the dvd player found in the podium. The DVD needs to be the US Region and not a bootleg copy (the player will automatically dim to prevent pirated viewing. Additionally, the dvd should be clean and relatively scratch free.
Was this article helpful?
0 out Of 5 Stars
| | | |
| --- | --- | --- |
| 5 Stars | | 0% |
| 4 Stars | | 0% |
| 3 Stars | | 0% |
| 2 Stars | | 0% |
| 1 Stars | | 0% |