Share a File with OneDrive
0 out Of 5 Stars
| | | |
| --- | --- | --- |
| 5 Stars | | 0% |
| 4 Stars | | 0% |
| 3 Stars | | 0% |
| 2 Stars | | 0% |
| 1 Stars | | 0% |
Overview:
OneDrive is cloud storage that is included with your Microsoft license. The files on your OneDrive are private until you share them. Keep in mind that when you share folders with Edit permissions, people you share with can add the shared folders to their own OneDrive. This lets them keep the folder alongside their own folders and items, easily move items between folders, and more easily work on it offline. Any updates they make sync with the shared folder, so everyone with access to the folder is up to date.
Instructions to share content with OneDrive
Navigate and sign into office.siu.edu and amongst the application tool bar (waffle composed of small squares) on the left hand side of the page select the OneDrive icon.

If your file is already in OneDrive:
Navigate to the "My Files" tab on the left toolbar of the homepage of OneDrive.
Find your file or folder and select the share button.

Select the appropriate permissions for sharing. This is where you can restrict the access to a specific person or group.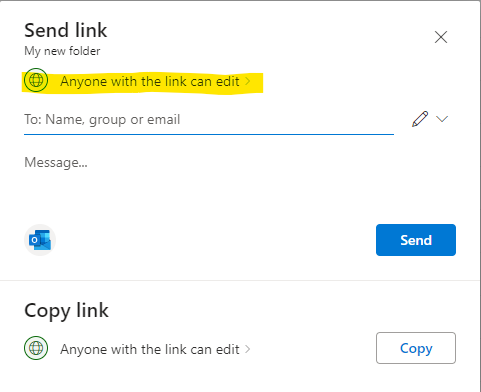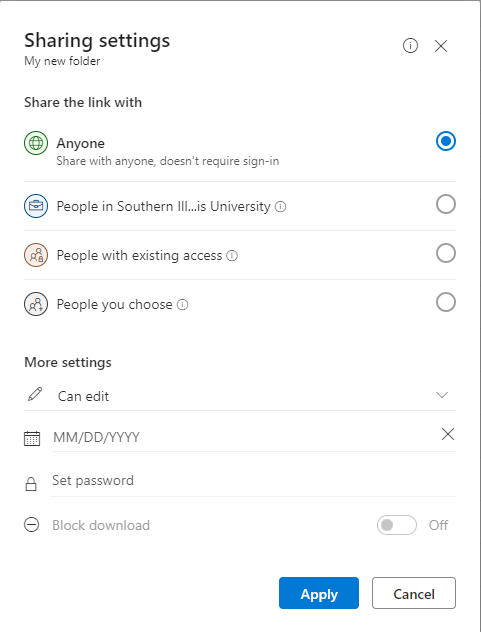 Once you are finished with your permissions click "Apply"
Type the email in the address field shown and click "Send" or create a link that you can copy over to Outlook to send your file/folder.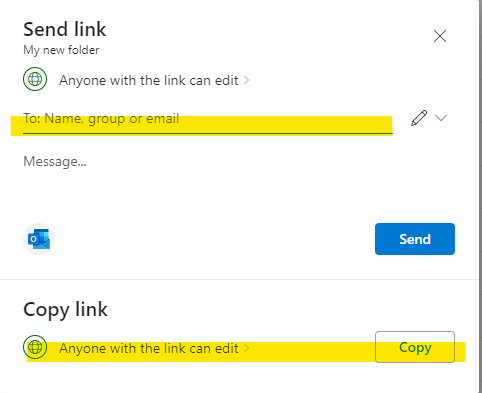 If you opted to send the link directly from OneDrive you can add a message to shared document. Once completed click "Send"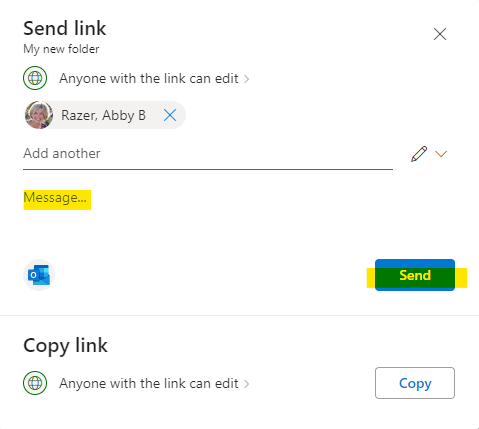 View the expanded tutorial from Microsoft here
Was this article helpful?
0 out Of 5 Stars
| | | |
| --- | --- | --- |
| 5 Stars | | 0% |
| 4 Stars | | 0% |
| 3 Stars | | 0% |
| 2 Stars | | 0% |
| 1 Stars | | 0% |