Setting Up a Google Analytics Account with an SIU Email Address
0 out Of 5 Stars
| | | |
| --- | --- | --- |
| 5 Stars | | 0% |
| 4 Stars | | 0% |
| 3 Stars | | 0% |
| 2 Stars | | 0% |
| 1 Stars | | 0% |
This guide was copied and adapted for SIU needs from Webucator.com. The original article was published in 2010 by: ssahani.
Introduction
Google accounts are useful for accessing a number of online resources. The one most often used for SIU purposes is Google Analytics. This method will create a Google Account that can Access Analytics and other tools, without creating a private Google email account. All mail and communications will go to your existing business account that is protected and secured by SIU.

Private email accounts should not be used for business purposes. As such, this is the recommended method to setup accounts for accessing Google-based tools.
If you have any questions or issues, please contact SalukiTech. Their contact information is listed at the bottom of this page, or via the chat tools.
New Account Registration
Visit the following link: https://www.google.com/accounts/NewAccount.
Complete the below form with appropriate information. While completing this form make sure to follow these guidelines from Google:

In the field labeled 'Your current email address', enter an email address from which you currently send and receive emails (e.g., externalagency@company.com).
Your password should be at least eight characters long and can't be a commonly used word. Select a unique combination of letters and numbers.
In the Word Verification section, you'll need to type the wavy characters exactly as they appear in the picture.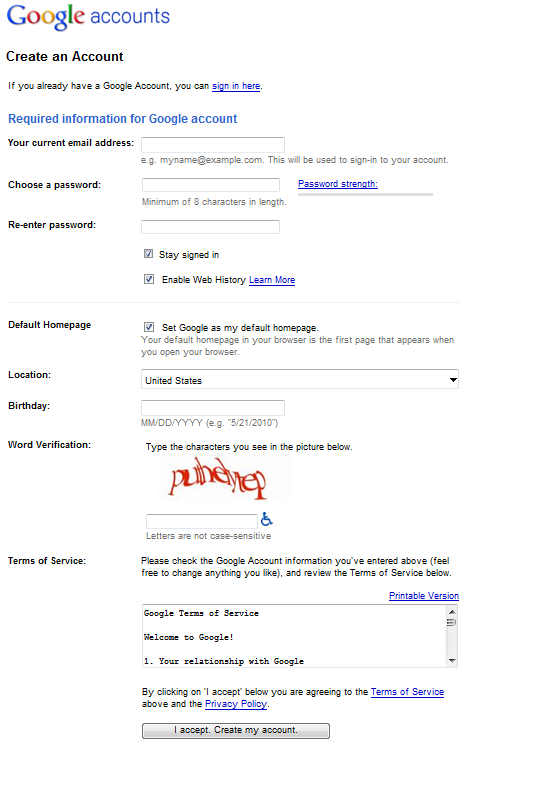 After you complete the above form, you will have to accept the terms of service and click on the 'I accept. Create my account' button, after which you will see the following confirmation page.

Google will send an email to the address associated with your Google account. In order to activate your Google account make sure you verify the email address by clicking on the appropriate link in the email.

Note that creating a Google account doesn't give you access to Gmail. However, it simplifies things by allowing you to use an existing email address to access Google Analytics.
Was this article helpful?
0 out Of 5 Stars
| | | |
| --- | --- | --- |
| 5 Stars | | 0% |
| 4 Stars | | 0% |
| 3 Stars | | 0% |
| 2 Stars | | 0% |
| 1 Stars | | 0% |