Proxy Help
0 out Of 5 Stars
| | | |
| --- | --- | --- |
| 5 Stars | | 0% |
| 4 Stars | | 0% |
| 3 Stars | | 0% |
| 2 Stars | | 0% |
| 1 Stars | | 0% |
Proxy Instructions – Student
Setting up a Proxy:
Adding and maintaining a proxy can be done through https://salukinet.siu.edu
On the main page of SalukiNet, look for the search bar and type in "Proxy User Management" – click on the first option that appears

The link will take you to an overview of the application, press "Start" on the right-hand side of the screen.
Note: Clicking this link will prompt you to login if you are not already
Click on "Proxy Management"

You should now be seeing your list of active proxies. If you do not have one, click on 'Add Proxy'.

Enter in your proxy's first & last name, and email address and click 'add proxy'.
Note: You will not be able to edit your proxy settings until their email address has been verified – they will receive an email shortly after you add them.

Once your proxy has verified their email address, set the relationship to 'Proxy Access'. If it gives you an error, try refreshing the page.
Optionally, you can enter a description of your relationship to the proxy (mom, dad, grandparent, etc.)
If you want your proxy to be able to speak over the phone or email with the bursar, financial aid, etc. on your behalf, you must set a passphrase. It should be something easy to remember.
Note: Not every department will speak with your proxy, regardless if you have a passphrase.
The start and stop dates populate automatically. You can set them individually for each proxy as you see fit.
Note: to remove a proxy, change the 'stop date'.
To set what your proxy can see, click on 'Authorization'. You can select anything you wish for your proxy to see online.
All changes save automatically.
Remember that you, the student, have full control over what a proxy can access. You can choose to add or remove authorizations at any time.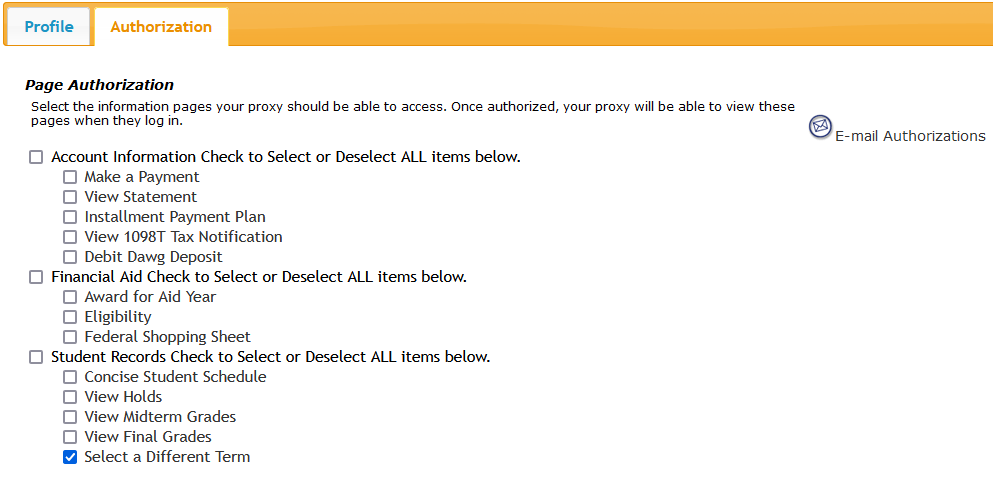 If you can see there is an active proxy on your account with all proper authorizations, but your proxy cannot view any of your information and/or cannot reset their pin, you will need to remove the account and add them again.
Proxy Instructions – Proxies
Using the Proxy Access page:
The proxy login has a special link: https://ssb.siu.edu/prod/bwgkprxy.P_ProxyLogin
Login with your email address and PIN.
First-time proxy users will need to wait for an email sent with a link to change your PIN. It will arrive after your information has been added by your student.
You, the proxy, can change the information on your profile at any time.
Changing your email address will send an automatic notification to both your old and new email addresses.
First-time proxy users will have to set a phone number.
Your student's name will show up next to 'profile' – click to see what options you have been authorized to view.
For options like the Bursar or Debit Dawg, you can setup payment information. Otherwise, most options are view only.
Changing your PIN:
These instructions work for first-time proxy users as well as current proxies.
PINs expire once a year. If yours expires before you have a chance to change it, go to the main proxy page: https://ssb.siu.edu/prod/bwgkprxy.P_ProxyLogin
Enter in your email address and click 'forgot PIN'
A link will be sent to your email along with an Action Password.
Click the link and enter the Action Password when prompted.
The next page will ask for your email, 'Old PIN', and your new PIN typed twice.
For 'Old PIN', enter the Action Password.
Save your password, and then login again.
The student has full control over what a proxy can and cannot see. If you are supposed to see options but they are no longer available, speak with your student.
Students can also setup a passphrase that allow you, the proxy, to speak with select departments over the phone or email, including the bursar and financial aid. Please note that not every department can give you specific information about your student, even if you are a proxy with a passphrase. This is because of student's rights and protections by federal law.
If you, the proxy, are unable to login OR cannot reset your PIN, your student may need to remove your account and add you again as a proxy.
Was this article helpful?
0 out Of 5 Stars
| | | |
| --- | --- | --- |
| 5 Stars | | 0% |
| 4 Stars | | 0% |
| 3 Stars | | 0% |
| 2 Stars | | 0% |
| 1 Stars | | 0% |