I received an email titled "Action Required: Renew (course info)(semester) by (expiration date)"
0 out Of 5 Stars
| | | |
| --- | --- | --- |
| 5 Stars | | 0% |
| 4 Stars | | 0% |
| 3 Stars | | 0% |
| 2 Stars | | 0% |
| 1 Stars | | 0% |
Is This Spam?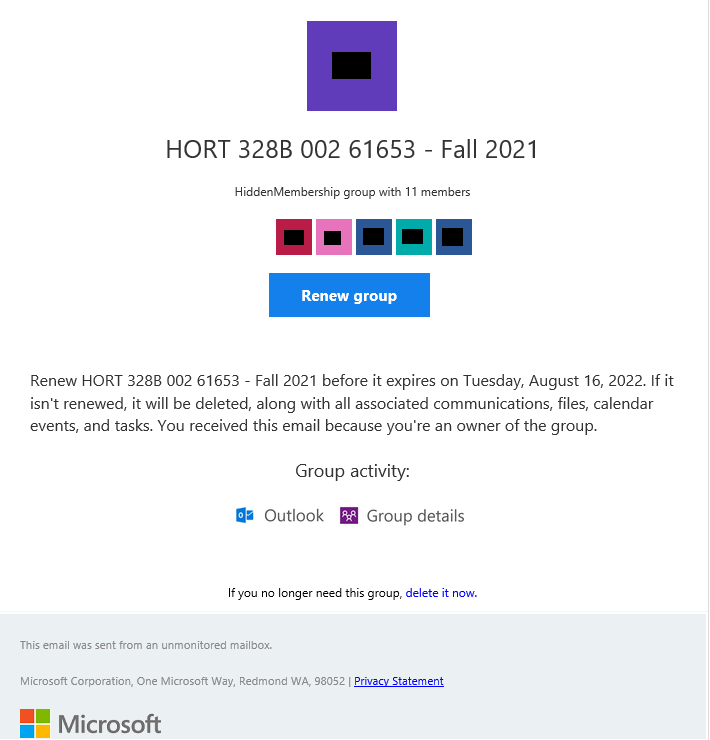 No, this email is typically sent by Microsoft Online Services Team. You are receiving this email because you have been listed as an owner to a Microsoft office 365 group. These groups are made automatically sometimes with the Instructor being made the group "owner".

If you do not wish to use this group, you may ignore this email and the group will then be removed by the date listed in the email. If you have any questions about Office 365 groups, please visit this page:

https://support.microsoft.com/en-us/office/learn-about-microsoft-365-groups-b565caa1-5c40-40ef-9915-60fdb2d97fa2
Was this article helpful?
0 out Of 5 Stars
| | | |
| --- | --- | --- |
| 5 Stars | | 0% |
| 4 Stars | | 0% |
| 3 Stars | | 0% |
| 2 Stars | | 0% |
| 1 Stars | | 0% |