Request a Room for Outlook/Teams Meetings
0 out Of 5 Stars
| | | |
| --- | --- | --- |
| 5 Stars | | 0% |
| 4 Stars | | 0% |
| 3 Stars | | 0% |
| 2 Stars | | 0% |
| 1 Stars | | 0% |
Rooms are created by requesting a resource account be created. This is a specially configured Departmental Network ID that will show up as an available location when creating a meeting in Outlook or Microsoft Teams.
The request procedure uses the same IT-Help form that is used to request a new Departmental Network ID, there are a few extra pieces of information that are needed in the incident request to ensure that your room will work correctly.
Submitting the request
The first step is to request a new Departmental Network ID. This can be done by clicking on this link. Navigate to requests and the OOB Request form. Fill out all fields and enter the text below into the "Reason/Purpose" box.
The "Supervisor" information is the supervisor of the person making the account request. Additional information must be included in the text below:
Building/Room Number
Full room name
Event approval person if desired.

If desired, a person must approve all meeting requests for the room. The alternative is that anyone can book a meeting in the room.

Room email address – should match the room number.
Full location name.
Content for the Request
This is the description that should be used for future room requests.
We would like to get [ROOM NUMBER] – (example COMM-1052) room set up as a Room in MS365 via a resource account.
The conference room name will be: (example "RTD Conference Room")
The room delegate for event approvals will be: [Name and NetID] (example – Jane M Consoca, SIU85xxxxxx)
The room email address should be: [room number@siu.edu]
(example – comm1052@siu.edu)
Room location is; [Full Location Name]
(example – Communication Building Room 1052)
The location name listed here will be the full name of the room in the location results when creating your meeting.
All event requests require approval – they should not be automatically accepted.
How to use meeting locations
Once the room is configured, staff can use the "Location" tool in the new meeting window to request to use the space – or book it directly, if no approval is required.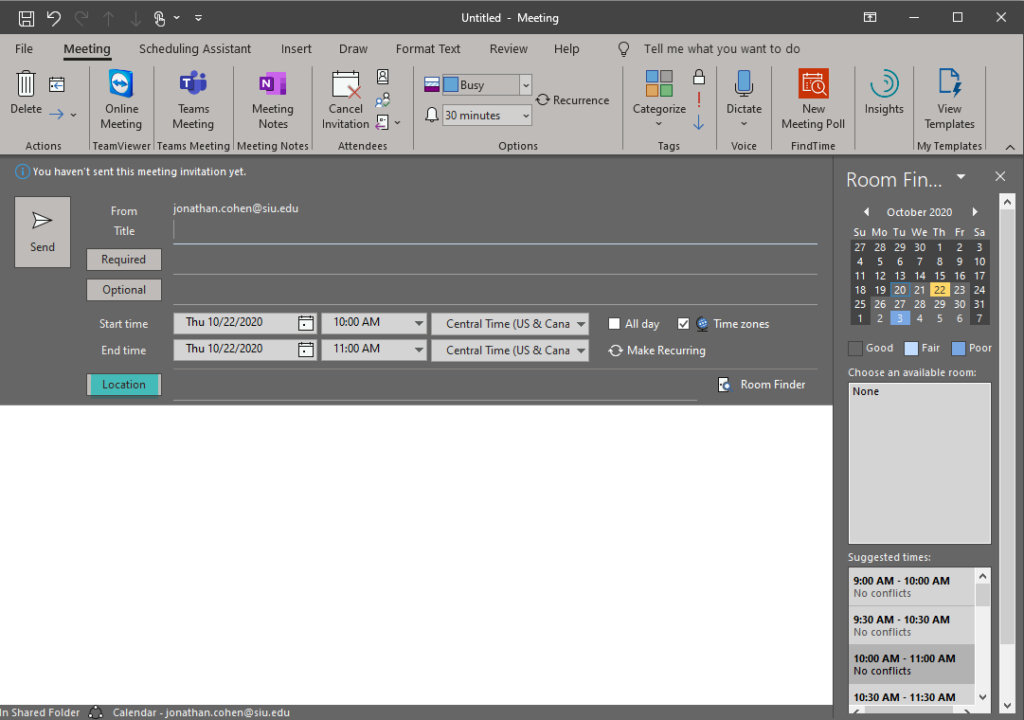 More information about Microsoft Rooms can be found on Microsoft's support website.
Was this article helpful?
0 out Of 5 Stars
| | | |
| --- | --- | --- |
| 5 Stars | | 0% |
| 4 Stars | | 0% |
| 3 Stars | | 0% |
| 2 Stars | | 0% |
| 1 Stars | | 0% |