MOVEit User Guide
0 out Of 5 Stars
| | | |
| --- | --- | --- |
| 5 Stars | | 0% |
| 4 Stars | | 0% |
| 3 Stars | | 0% |
| 2 Stars | | 0% |
| 1 Stars | | 0% |
Overview
MOVEit is a service available to Southern Illinois University students, faculty, and staff that securely allows exchange of electronic data between individuals using an encrypted connection. Using MOVEit minimizes the likelihood that information could potentially be compromised. In addition, students, faculty, and staff can send non SIU individuals data securely via MOVEit. When sending the data, a temporary account will be made on behalf of the individual.
The URL to access MOVEit is https://moveit.siu.edu. The built-in web interface provides access to anyone with a web browser to submit files securely. The MOVEit Wizard supports file integrity checking. Regardless of the method you choose to use, faculty/staff will be given 10GB of storage space while students will be allowed 5 GB of space to use with MOVEit.
Accessing MOVEit
Staff, Faculty, and Student Access
Anyone with an official Southern Illinois University Network ID can use MOVEit.
To access MOVEit, go to: https://moveit.siu.edu

If you are unable to sign into MOVEit with your Network ID, please click the link stating ">Try Single Sign-On with SAML"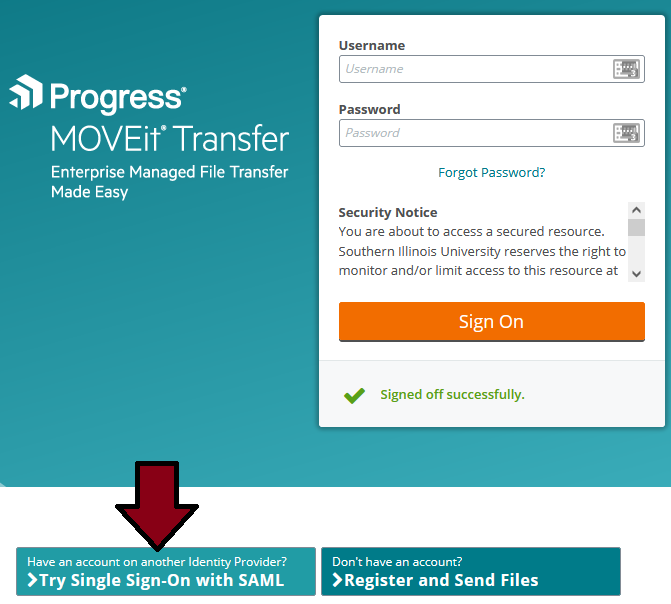 Accessing MOVEit with a non-SIU account
You should get two emails with the subject.
1. New Package Is Waiting
2. New User Account for Southern Illinois University (moveit.siu.edu)
Both emails should be from moveit.siu.edu
In the email New User Account. There will be a link to follow to confirm the account creation. It will look something like this.
Click the link below where it says "To begin using this account, use the following link…"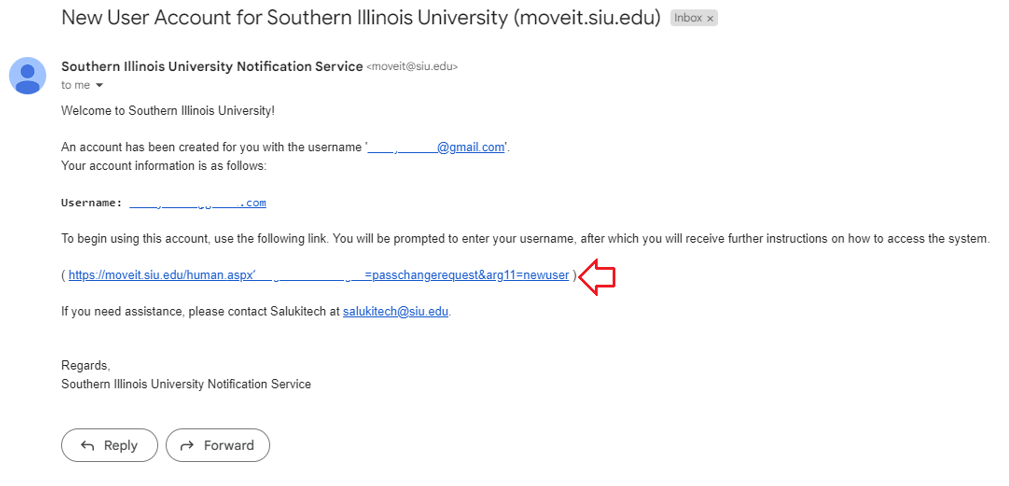 After clicking the link, you must fill in the email address that received the MOVEit file package. After you have filled in the email in the field marked "username" click request password.

You will now get a 3rd email to create a password for the account. Use the link inside of this newest email to create your MOVEit password.

Password requirements are as follows.
Cannot Be Shorter Than 16 Characters.
Requires a minimum of 1 unique character.
It cannot Be Larger Than 128 Characters.
It cannot contain a restricted word.
After creating your account, you may log in to view your MoveIt Files\Emails or return to your first email titled New Package Is Waiting and click the link.
MOVEit Guide
To view a guide for how to use moveit visit this website.
Was this article helpful?
0 out Of 5 Stars
| | | |
| --- | --- | --- |
| 5 Stars | | 0% |
| 4 Stars | | 0% |
| 3 Stars | | 0% |
| 2 Stars | | 0% |
| 1 Stars | | 0% |