Unable to Sign into myfuture.siu.edu to Submit Application or Sign Up for Orientation
0 out Of 5 Stars
| | | |
| --- | --- | --- |
| 5 Stars | | 0% |
| 4 Stars | | 0% |
| 3 Stars | | 0% |
| 2 Stars | | 0% |
| 1 Stars | | 0% |
Overview
myfuture.siu.edu is used for students to fill out admission applications and to sign up for orientation. Occasionally there is confusion on how to manage the accounts made here as they will sometimes use the university email as a login name.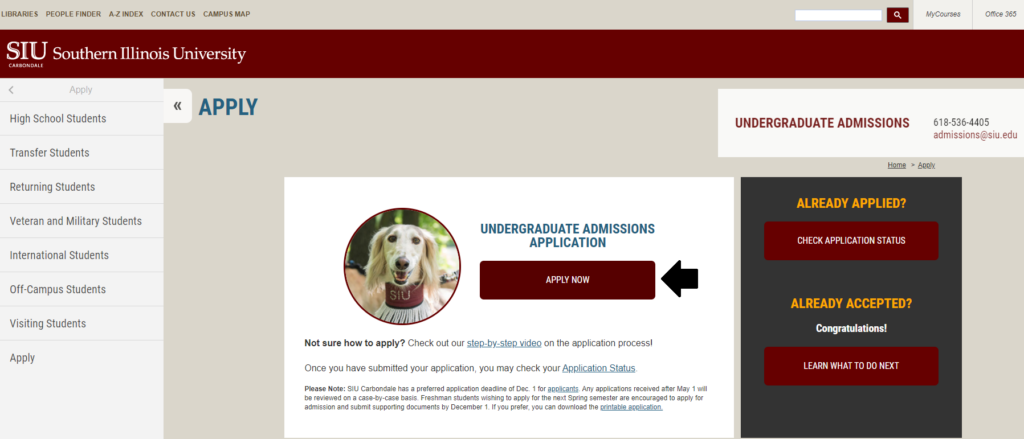 These accounts are separate from the SIU Network ID. Password changes at myfuture.siu.edu will not effect your Network ID password (email, salukinet, etc).
I can't log into myfuture.siu.edu
Please try the "forgot your password" link to the right of the login screen

If you are unable to reset your password or log into your myfuture account, please contact the admissions office at 618-536-4405.
I tried to reset my password at myfuture.siu.edu but it says "No account exists"
Please double check the information you entered. This information is pulled directly from the information entered when the account was first made.
If you are still unsuccessful or do not have access to your old account email you will need to create a new account with a new email address.
I have reset my password but cannot log into myfuture.siu.edu
If you reset your password through netid.siu.edu, that will not effect your myfuture.siu.edu password.
Was this article helpful?
0 out Of 5 Stars
| | | |
| --- | --- | --- |
| 5 Stars | | 0% |
| 4 Stars | | 0% |
| 3 Stars | | 0% |
| 2 Stars | | 0% |
| 1 Stars | | 0% |