Virtual Desktop Infrastructure (VDI) Guide
4.5 out Of 5 Stars
| | | |
| --- | --- | --- |
| 5 Stars | | 0% |
| 4 Stars | | 100% |
| 3 Stars | | 0% |
| 2 Stars | | 0% |
| 1 Stars | | 0% |
Bring Your Own Device (BYOD) to Access Software Packages Overview
To make software more readily available to current SIU students, faculty and staff we have virtualized that software to be accessible from your own devices.
Directions
Use the VMware Horizon Client to access an OIT Computer Learning Centers (CLC) or other virtual desktop or virtual application from your personal device. Entitlement varies by customer based on affiliation, but University-wide site-licensed software is generally limited to academic instruction and non-commercial academic research by active employees and enrolled students, excluding academic administration, university operations, and other unlicensed professional and commercial use.
1. Install
Download and install the VMware Horizon Client for your personal device(s).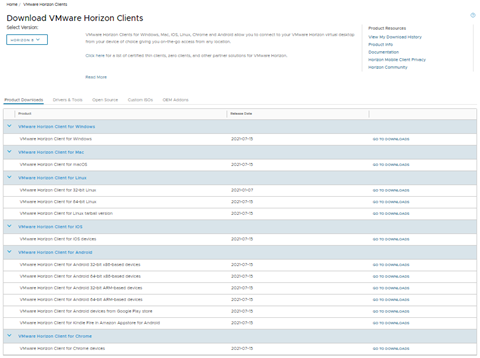 2. Connect
Open the VMware Horizon Client, click Add Server, and enter the name of the Connection Server (https://vdi.siu.edu), then click Connect.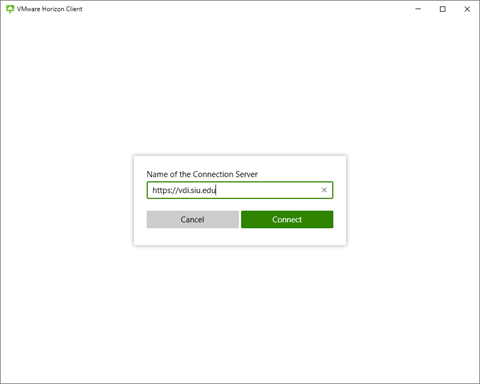 3. Login
Enter your user name (SIU85xxxxxxx) and password for the AD domain, then click Login.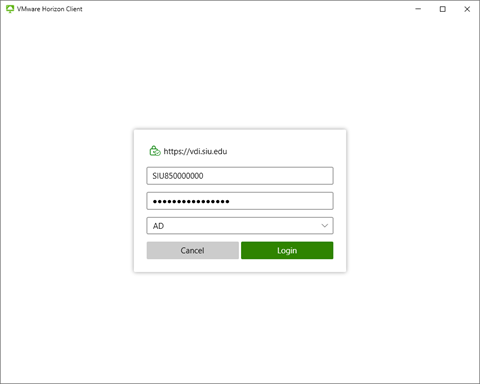 4. Work
Double-click an available virtual desktop or virtual application. Featured virtual desktops include:
IT-CLCLabs:
Microsoft Office 365 (Word, Excel, PowerPoint, etc.)
Respondus Lockdown Browser
miscellaneous common software
CLC GIS and Geospatial Analysis:
ArcGIS CityEngine 2021.0
ArcGIS Desktop 10.8
ArcGIS Pro 2.8
ERDAS IMAGINE 2020
Julia
Python
R/RStudio
Visual Studio Code
Microsoft Office 365
EndNote 20 plug-ins
CLC Math and Statistical Analysis:
JMP Pro 16
Mathematica 12.3
MATLAB 2021a
SAS 9.4M7
SPSS Amos 28
SPSS Statistics 28
Julia
Python
R/RStudio
JAGS
Visual Studio Code
Microsoft Office 365
EndNote 20 plug-ins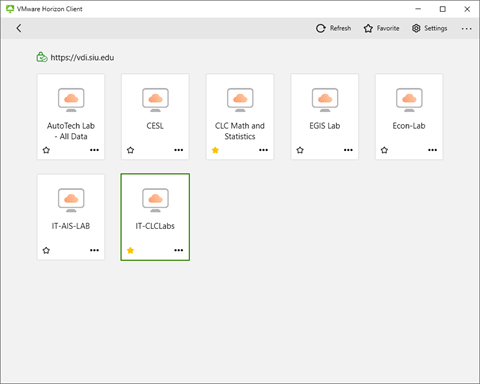 5. Save
Save your work to your device on Network Drive (Z:), to an external device or file share at another drive letter, or to a cloud drive like OneDrive. All work saved to the virtual drive (C:) will be lost and irrecoverable.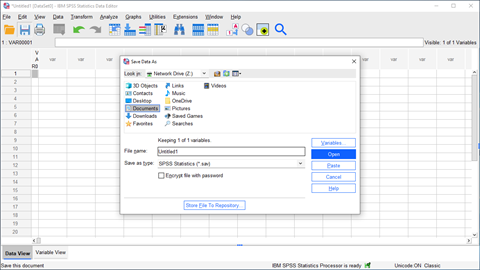 6. Logout
Sign out of the virtual desktop or close the virtual application, then disconnect from the connection server. Idle sessions will automatically disconnect at ~20 minutes of inactivity. Disconnected sessions will automatically sign out at ~60 minutes (~20 minutes inactivity plus ~40 minutes disconnected).
Was this article helpful?
4.5 out Of 5 Stars
| | | |
| --- | --- | --- |
| 5 Stars | | 0% |
| 4 Stars | | 100% |
| 3 Stars | | 0% |
| 2 Stars | | 0% |
| 1 Stars | | 0% |