SIUC LastPass
4.5 out Of 5 Stars
1 rating
| | | |
| --- | --- | --- |
| 5 Stars | | 0% |
| 4 Stars | | 100% |
| 3 Stars | | 0% |
| 2 Stars | | 0% |
| 1 Stars | | 0% |
Overview
LastPass is a password manager that saves, stores, and organizes all your passwords and logins in a vault encrypted to your device. SIUC is providing this service at no cost to keep the community safe and secure.
Faculty and staff have all been sent invitation emails. If you have lost your LastPass invitation email, please contact SalukiTech (618-453-5155) and we can have a new invitation emailed to you.
Your LastPass Master Password must be a different one from your SIU network account.
For more information please visit: https://oit.siu.edu/infosecurity/tools/last-pass.php
Invitation Email
If you are eligible to use LastPass you will receive an email that looks like the following.
This is not a spam email

Subject: LastPass account created
Sender: LastPass do-not-reply-support@lastpass.com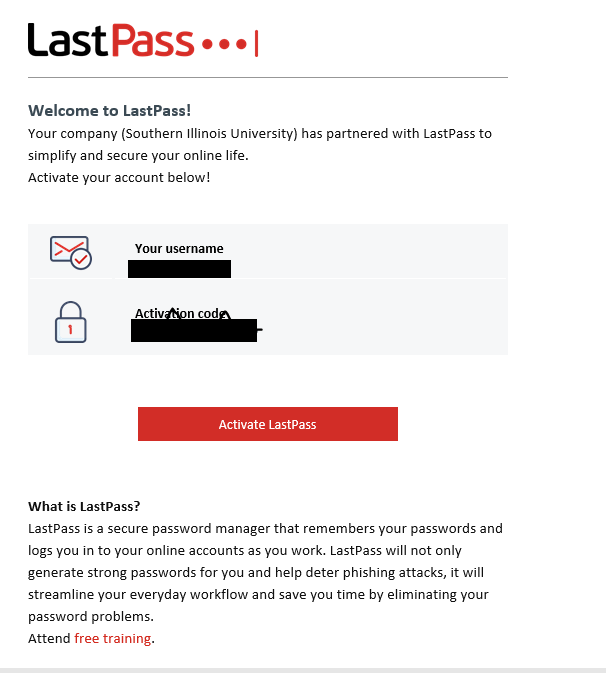 4.5 out Of 5 Stars
1 rating
| | | |
| --- | --- | --- |
| 5 Stars | | 0% |
| 4 Stars | | 100% |
| 3 Stars | | 0% |
| 2 Stars | | 0% |
| 1 Stars | | 0% |