Departmental ID or Out-of-band (OOB) Network ID Account
0 out Of 5 Stars
| | | |
| --- | --- | --- |
| 5 Stars | | 0% |
| 4 Stars | | 0% |
| 3 Stars | | 0% |
| 2 Stars | | 0% |
| 1 Stars | | 0% |
How to Request a Departmental ID
In order to request a departmental ID you will need to fill out the Network ID Account Request form here: https://ithelp.siu.edu/SC/ServiceCatalog/RequestOffering/cb6d2de4-226f-97ba-04ab-b9030334908a,ee46d262-8a18-dbb0-a336-c19f67db62cb
Click the link to open the request form
If the link does not work you can access the form by visiting ithelp.siu.edu, Clicking on Requests, and Clicking Network ID Account Request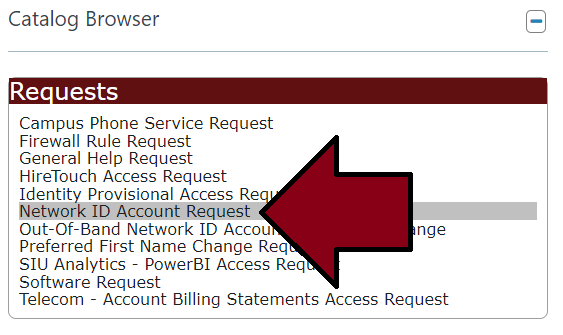 Once you've opened the Network ID Account Request form you will see a dropdown menu with 3 options.
Create an account
Modify an account
Delete an account

Select Create an account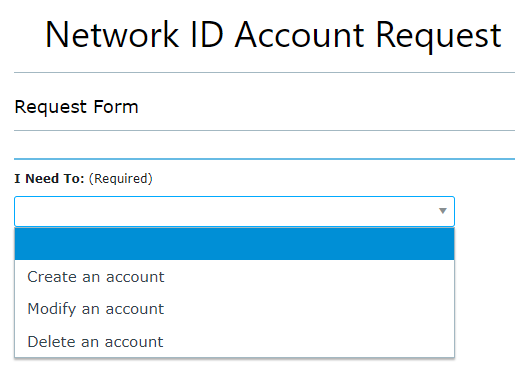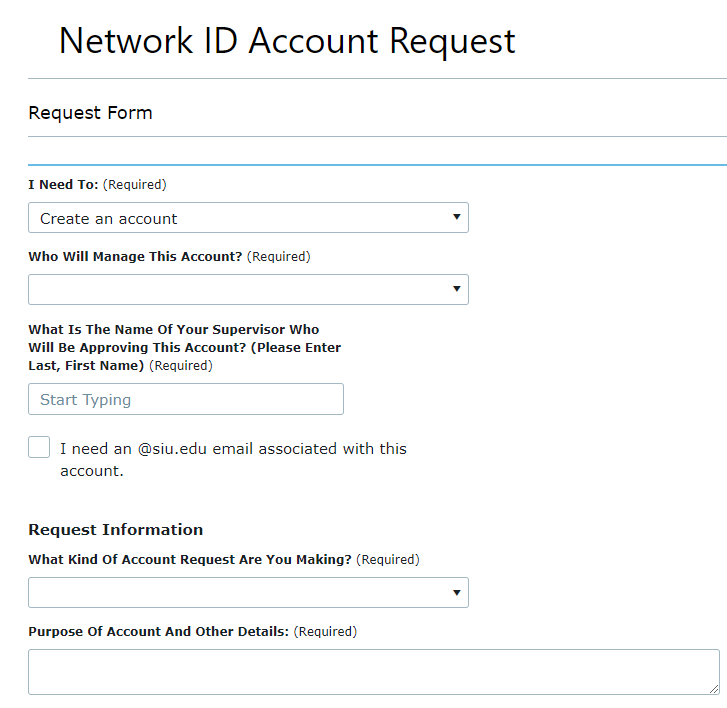 From this menu you will need to choose who will manage the account, the Approving Supervisors name (Last name, First name), and the Type of account you are creating.
If you would like an email address for this account, be sure to check the box and enter in your requested email address.
If you are requesting an account for departmental use, Select I need an account for department use [Departmental ID]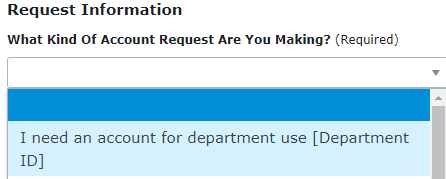 When you've finished filling out the form, click save at the bottom of the page.
I Want to Use a Departmental ID, but it is Deprovisioned
If the departmental ID you would like to use is deprovisioned, you can use this form linked above to fix this issue. You will select "Modify an Account", enter in the network ID of the account, and in the comments field list that you need access to this deprovisioned account.
My Departmental Account is Unclaimed and I am Unable to Claim It
Departmental accounts are often left unclaimed since they do not usually have an entry for the first and last name fields. Leaving these accounts unclaimed does not interfere with the functionality of the account.
I have a Departmental Id but how do I change the password?
As the owner of a Departmental Id, you can sign into http://netid.siu.edu with your own account, select user lookup, and search for the Id in question. You can select "manage accounts" from the drop down menu, and then change the password on the Id.
For more detailed instructions to changing Departmental Id passwords, please see our guide here: https://oitkb.siu.edu/knowledge-base/how-to-change-department-id-password/
I have an account I no longer need, can I delete it?
Yes, by navigating to the Network ID Account request form and selecting Delete an Account, you can submit a request for deletion.
Was this article helpful?
0 out Of 5 Stars
| | | |
| --- | --- | --- |
| 5 Stars | | 0% |
| 4 Stars | | 0% |
| 3 Stars | | 0% |
| 2 Stars | | 0% |
| 1 Stars | | 0% |